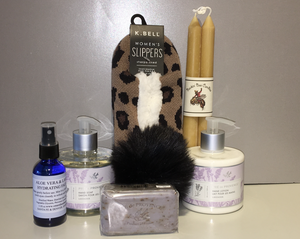 Uli's Santa Fe
The Perfect Pampering Gift Pack
Regular price
$85.50
$0.00
Unit price
per
This is the gift basket that's perfect to pamper the lavender lover in your life. It comes with two french soaps, one liquid and one bar, a french made, lavender hand lotion, a refreshing, lavender face mist, locally made bee's wax candles and a pair of lovely, Sherpa lined slippers.
- Pré de Provence Hand Lotion and Hand Soap in Lavender: These are delicately fragranced and luxurious. The Lotion is enriched with Shea butter, glycerin and vitamin E and is designed to be both protective and nourishing. The liquid soap is also formulated with glycerin, Shea butter and vitamin E and is designed to both nourish and gently cleanse the skin.
- Pré de Provence French Milled, Lavender Bar Soap: This soap is delicately fragranced, is made from pure vegetable oil and is Shea butter enriched.
- Also Vera and Lavender Hydrating Face Mist: Handmade in Santa Fe, this refreshing face mist contains distilled water, distilled aloe vera juice, vegetable glycerin, and provence lavender essence. Mist 8"-10" from face to refresh and tone.
- Buckin' Bee Candles: These all natural, beeswax candles are handmade right here in Santa Fe, NM. No artificial dyes or colors. Perfect for that romantic, relaxing, lavender bath.
- K.Bell Women's Slippers: These slippers are sherpa lined and incredibly soft and warm. They have non-skid soles and features an animal print in knit topped off with a black, faux fur accent. Shoe size 5-8.5 US.
---
Share this Product
---